As a certified service provider in Singapore, EStar Business is now launching preferential packages for newly established companies in Singapore for companies and entrepreneurs to choose according to their own circumstances: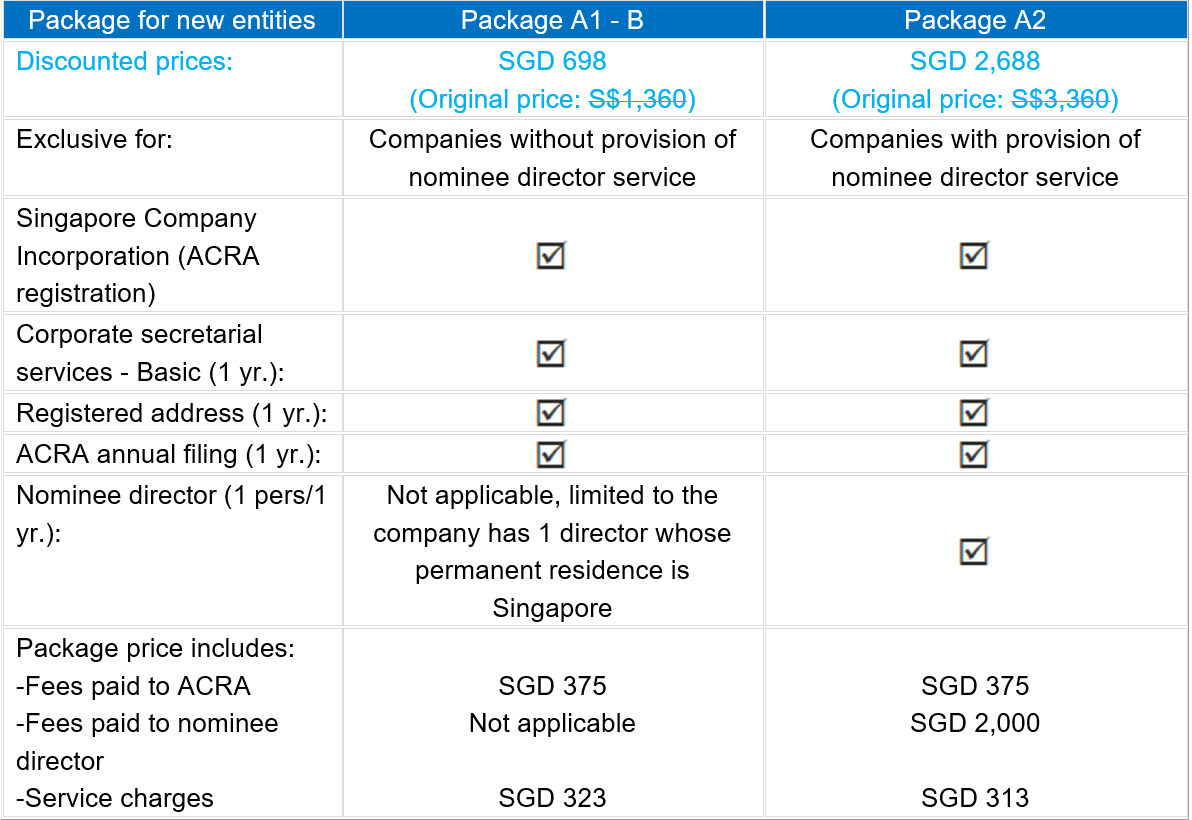 The above services can now be completed through online application. For details, please see:

Note 1:
According to ACRA regulations, when the shareholder is an overseas individual/company who is not a Singapore citizen/permanent resident, the necessary conditions for the government registration of a new company include:
-Registration applicant: must hire a certified service provider to provide company registration services;
-Company name: Will be approved by ACRA;
-Company directors: At least one director must have a permanent residence in Singapore;
-Company Secretary: Must appoint a local company secretary in Singapore;
-Registered place of the company: must be a Singapore address;
-Paid-in capital: at least S$1
Note 2:
Description of the scope of company secretarial services:
a. Provision of a named Company Secretary
b. Online management of electronic statutory records
c. Preparation of the minutes, resolutions and all other necessary documents in connection with board meetings and the Annual General Meeting ("AGM") of the Customers (limited to six copies of documents per year); and
d. Advice on corporate secretarial matters;
Other notes
Kindly remind that the aforesaid fees, unless otherwise stated, exclude third-party fees incurred during the provision of services nor out-of-pocket fees, such as fees paid to ACRA, taxes, mailing fees, overtime fees, etc.
EStar Business adheres to the work philosophy of "professional, concentrate, convenience", and is committed to providing professional services with quality and efficiency. We target to form a good reputation through our professional services provided, and we welcome more entrepreneurs who are interested in overseas development to join our platform to "Develop Together, and Grow Together".
Your possible questions:
◎ Summary of FAQs and replies for company set up in SG
Other links you may be interested in:
◎ [SG] List of Fees – Secretary | Finance (Accounting & Report) | Tax | Others
◎ [O-SG] Commonly used Singapore official website
◎ [SG] EStar Business Online Service Application Platform
If you have any other questions, please leave a message online or contact the service staff of EStar Business, we will get back to you as soon as possible.